Most aviation enthusiasts are familiar with the racing success of N501W, the original clip wing which was first flown by John Livingston in May 1932.  Less familiar is the incredible racing success of the "long wing" or stock Monocoupe 110's during the 1930 and 1931 air race seasons and in particular at the National Air Races.  My objective with this section is to highlight the racing success of the stock long wing Monocoupe 110's.  The information and pictures in this section comes from:
Zazas, James B; Visions of Luscombe, The Early Years, Published as part of the Aviation Heritage Library Series, SunShine House, Inc, Terre Haute, IN, 1993.
Underwood, John; Of Monocoupes and Men, Glendale, California, Heritage Press, 1973.
Schmid, S.H., and Weaver, Truman C.; The Golden Age of Air Racing, EAA Aviation Foundation, Oshkosh, WI, 1963.
The Monocoupe 110
Several Monocoupe designs made their debut during the spring and summer months of 1930. The first was the Monocoupe 110, another high wing, side-by-side seating Mono-Aircraft design tailored to appeal to the sportsman pilot and, very quickly, the racing pilot. The Monocoupe 110 was basically a Monocoupe 90 adapted for a 110 hp Warner "Scarab" engine. The Monocoupe 110 received its Approved Type Certificate (ATC #327) on June 16, 1930.
The performance improvements were startling! This 1611 lbs gross weight monoplane boasted a 133 mph top speed, a 112 mph cruise speed and an impressive 480 statute mile cruising range – all for $4500 Flyaway Moline. Very quickly, this sprightly airplane became the darling of the light airplane racing community.  The airframe was identical to the Model 90 with few exceptions. A metal propeller and 6:50 x 10 wheels were standard equipment. Optional equipment included wheel pants, a Heywood engine starter, a battery, navigations lights, a tail-wheel and a narrow chord "Townend" ring cowl.
Early versions of the 110 had an oleo gear arrangement not unlike that found on the popular Monocoupe 90. Later versions featured the better known – and faster – faired Vee and streamlined wire-braced arrangement, racing gear. Several long wing Monocoupe 110 airplanes were modified and groomed for air racing uses. Thus, the Monocoupe continued in the ranks of the racing circuit. A few were altered with a deep chord "Townend" speed-cowl ring to further boost speed. Eventually, at least fifty Monocoupe 110 airplanes were built.
The 1930 Air Race Season
At least one Monocoupe 110 earned a respectable notch in air racing history. Built at the Moline factory in the early part of 1930 and delivered as a stock airplane (less wheel pants and "Townend" ring), this soon-to-be-famous Monocoupe 110 (NC5O1 W, s/n 533) was bought by crack aerobatic and racing pilot, Johnny Livingston. Over the next few years, Livingston's impressive racing accomplishments would earn him the title "Dean of American Air Racing." In many races, Livingston's long wing Monocoupe 110 outperformed airplanes with twice, sometimes three times the available horsepower.
Vern Roberts wasted no time taking advantage of the performance gains embodied in the new Monocoupes and, soon, used these advances for racing. Much like Johnny Livingston's Model 110, another stock Monocoupe 110 was prepared to be flown by Roberts. Concurrently, a Monocoupe 125 was groomed for racing. It took little time before the rumor mill was abuzz which airplane was faster. The stage was set for some exciting racing between Roberts and Livingston.On August 9, 1930, a sudden, natural storm struck the Moline Airport with 55 mph winds. The huge doors of the Curtiss-Wright hangar were ripped from their hinges, then laid on the ground so gently that no glass was broken. Next door, Mono-Aircraft employees did what they could to protect several Monocoupe 110's being made ready for the National Air Races. The storm soon ended and, much to their relief, not a plane had been damaged.
The date was August 14, 1930 and a new airplane was just lifting off from the Mono Aircraft factory field at Moline, Illinois and would soon be touching down at Aurora, Illinois.  At the controls of the sparkling yellow and red Monocoupe was a proud Johnny Livingston who had just taken delivery of the new plane, and had great plans for it, but not even he could have known how great the results would be.  This would be his new racing steed – and what a mount it was.
The Warner engine was cowled by a speed ring, a collector ring gathered the exhaust and directed it to a point just under the cabin area.  A minimum amount of drag existed on the standard Monocoupe but there were such items as the exterior step and navigation lights that did add to the drag.  No one said they were racing aircraft, yet they dominated much of the air racing during 1930 and 1931.  They were fast birds. August 23 was opening day for the 1930 Chicago National Air Races, so this left less than 10 days to prepare for these races.  He did take time to remove the exterior step and paint No. 22 on the sides of the fuselage and the lower right and top left wings.
Wanting to get some flying time on the new Monocoupe, and also the fact that he was a cross-country champion, he entered the Men's B Pacific Derby Race – Brownsville to Chicago.   Having won the 1928 Transcontinental race and the 1929 Ford Tour – he remained consistent with a winning style by placing first – with a time of 16 hours, 10 minutes and 29 seconds.  He used lots of his old tricks – one was staying below the tree tops most of the way to avoid head winds that prevailed.  This win netted him $2,000 – not a bad start for the "Coupe's" career.
The 1930 National Air Races at Chicago held great promise for Mono-Aircraft, Inc. and its airplanes. Don Luscombe and many air racing enthusiasts were not disappointed. Vern Roberts, John Livingston, Tony Little, "Stub" Quinby and Phoebe Omlie were scheduled to race Monocoupes.
Monocoupes virtually swept away the competition. They garnered first place finishes in eleven of fifteen races entered during the August 23 to September 1 spectacle. Additionally, Monocoupes placed second in ten of these events as well as third in nine events entered. Moreover, the swift Monocoupes placed first in each of the three Air Derby races in which they were entered. Finally, of the fifteen events entered by Monocoupes, five of them were for airplanes of greater horsepower.
Vern Roberts won most events handily. But a hard-charging Livingston gave Roberts a good race in a couple of races by trailing behind only by tenths of a second! For example, in the Civilian's Closed Course Race of 800 cubic inches displacement, Roberts placed first with an average speed of 145.58 mph. Livingston and Quinby followed in second and third places with speeds of 145.40 and 140.01, respectively.  Employing an often used race tactic, Roberts rose his airplane on the last pylon of the last lap, then dove towards the finish line. The crowd thundered with excitement!
But Livingston wasn't Roberts only close competition. During one 25 mile pylon race, Les Bowman stayed on Roberts' tail, flying a speed-ring cowl modified Monosport 2. Likewise, Bart Stevenson, flying a Lambert-powered Monocoupe, garnered at least one first, and two second, and three third place finishes.
In the Woman's Closed Course Race of 800 cubic inches displacement, Phoebe Omlie took first place flying a Monocoupe 113 Special with a 139.97 mph average speed. Gladys O'Donnell placed second with a close 139.84 mph average speed flying a Warner-powered Monocoupe.
Much as they had done a year earlier, Vern Roberts, "Stub" Quinby and Phoebe Omlie collected huge cash prizes at the 1930 NAR. Often, these winnings exceeded $2,500, quite a handsome prize when one considers the average weekly wage in 1930 was barely $35. Other Monocoupe pilots and cash winners included Wesley Smith, Tony Little, Bart Stevenson, Scotty Burmood, Marti Bowman and, of course, Johnny Livingston. Many of these names would be immortalized in air racing's "Golden Age."   In light of the Monocoupes' domination of these races, well-known air race commentator, Cy Caldwell, commented the races should have been called the "Monocoupe National Races" instead of the National Air Races. Don Luscombe used these remarks in future Monocoupe advertising and sale brochures.
By the year's end, Don Luscombe was ecstatic! He could boast, and rightfully so, Monocoupe airplanes had won 63 percent of the total prize money offered for the events in which they were entered during 1930.
The 1931 National Air Races
For those individuals who could not afford an airplane, many took great interest in the varied and exciting activities of those who could. They read the newspaper stories and listened to the radio for information. Air races, derbies and air shows offered many less fortunate a chance to forget their woes and share in the excitement of the day. A glowing ray of hope developed from this interest that private aviation would not only survive, but flourish.
Enhancing Monocoupe Corporation airplanes' appeal were the many victories these swift designs tallied in several prestigious races. Overall, 1931 proved an astounding year as Monocoupe racers won more than 50 percent of all available prize money.  Johnny Livingston was ready for the 1931 air racing season flying his long wing Monocoupe 110 to victory after victory. At the Miami Air Races held in January, Livingston garnered two first place finishes and a second. Five months later at the Omaha Races, Livingston and the Coupe captured seven firsts, one second and one third.
Shortly before entering in the 1931 National Air Races at Cleveland, Livingston began to modify the cowl on his Monocoupe. He developed a longer cowl that consisted of two flat pieces wrapped around and connected to the speed ring. To determine the effects of these and other modifications, Livingston would whitewash his airplane and fly it through a rain cloud. After landing, he would carefully note the airflow disturbances from the resulting streaking. In turn, he would make the appropriate corrections.  On August 25, shortly before the start of the 1931 National Air Races at Cleveland, a confident Livingston took his Monocoupe to the Warner Aircraft factory in Detroit, Michigan, for an overhaul and a horsepower boost to 125 hp.
At these races, John Livingston and his yellow and red trimmed long wing Monocoupe 110, race number 14 emblazoned on it side, visited the winner's circle on numerous occasions. He racked an impressive seven victories and two second place finishes of twelve events entered. His race earnings amassed to an incredible $6,180. When one considers two bits and a dime could buy a good dinner for two, these earnings were a lot of money.  Livingston would thrill the crowd with hairpin turns at the pylons. His vertical banks only a scant twenty feet or so above the ground added much to his developing legend. He would finish his display of superb airmanship by doing a series of victory rolls at the conclusion of each race.
Before the 1931 air racing season was out, Johnny Livingston and his much-modified (but still long wing) Coupe took home forty-one first place finishes, nineteen seconds, four thirds and one fourth –  all from sixty-five starts! Not to be outdone, Vern Roberts, Bart Stevenson and Florence Klingensmith took a sizable share of first, second and third place finishes.
The 1932 National Air Races and birth of the Clipwing
The 1932 racing season proved equally if not more impressive than the previous year. Once more, Johnny Livingston's Monocoupe took center stage in many races during 1932. Though he placed second, behind Steve Whitman, in the Miami Races' 500 Cu. in. race, Livingston was keen to win more races and made plans to further modify his gaily painted Coupe.
In May 1932, Livingston took his Coupe to Lambert Field, St. Louis, to effect several key modifications. These modifications eventually resulted in his Monocoupe, originally certified under ATC # 327, being recertified in the Group 2 Approval category as #2-452. To many, his ship became known as the Livingston Special."  When Livingston arrived at the mid-May 1932 Omaha Races, his Monocoupe featured a "clipped-wing" design of his own. Though Livingston designed these wings, the Monocoupe factory built them new and did not use old wings simply "clipped." Livingston referred to his creation as a "Short-wing Monocoupe."  Livingston's first true test with his new wing occurred at these races. He was not disappointed! Livingston and the Coupe took six first place finishes, two thirds and one fourth.
But, Livingston was still not satisfied.  In early August 1932, Livingston returned to Detroit to install a 145 hp, Warner 145 "Super Scarab" engine. Concurrently, he formed and fitted a new, bumped cowl that reduced the frontal area and faired further rearward than the original cowl. Johnny Livingston believed he and his Coupe, complete with midget wheels, pants, special fairings and other key airframe modifications, were now ready for the Cleveland National Air Races.
The 1932 National Air Races at Cleveland saw more Monocoupes entered than in any National Air Races previously. Some twenty-seven Monocoupe pilots registered and, in turn, won twenty-eight places in ithe money! Spunky Florence Klingensmith won the most money with Johnny Livingston second and Art Camahan third on the list.
Johnny Livingston entered several of the faster races and, in turn, had to face faster competition. He won the Cincinnati Trophy race, finished third in two events and garnered a respectable fourth place in the competitive pylon events.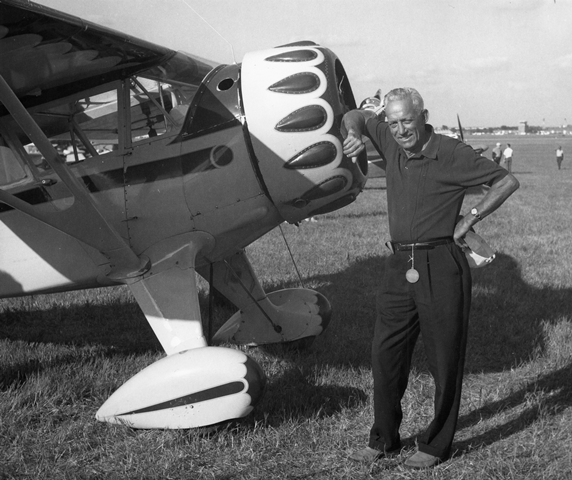 Although Livingston's Coupe could easily surpass 200 mph, often trading wins with other fiercely competitive pilots, a somewhat somber Livingston and Don Luscombe realized the racing days of the Monocoupe were numbered. The Monocoupe's winning streak had reached its pinnacle. The competition was getting faster. Livingston enjoyed several more victories during the balance of 1932 and early 1933 before he sold his "Livingston Special" to Jack Wright of Utica, New York, less than a year later. In turn, Wright enjoyed several air race victories in this highly-modified "Coupe".
N501W Then and Now
N501W when owned by John Livingston in 1931 and now owned by Jim White.  Jim stopped by Sedona for breakfast one morning.